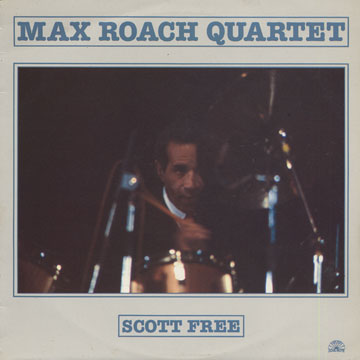 One good reason to try out Spotify if you're on the fence: From what I can tell, the majority of the Black Saint and Soul Note catalogs are accessible via the service. For those unfamiliar with these imprints, a good analogy would be if all the great '60s jazz labels (Blue Note, Riverside, ESP, Verve, etc.) were combined into two linked entities. In the Black Saint/Soul Note heyday—roughly the mid-'70s through the mid-'90s—everybody who was anybody recorded for label bosses Giacomo Pelliciotti and Giovanni Bonandrini. (I'll just throw out Andrew Hill, Bill Dixon, Sam Rivers, Steve Lacy, Paul Motian, Dewey Redman and Anthony Braxton as a random sampling.) In short, the combined BS/SN holdings are one of greatest jazz troves there is—easily up there with, say, the Blue Note or ECM catalogs. (Now that I think about it, I realize how important a strong visual aesthetic was/is to the success of Blue Note and ECM; BS/SN have many things, but this is not one of them.)
The availability of BS/SN on Spotify was a nice coincidence, given that my first order of listening business after
Sunday's Odean Pope show
was to study up on the Pope discography. Aside from his substantial work as a leader—I've been digging into the early trios on Moers as well as the wealth of Saxophone Choir material—he made a long string of '80s Soul Note dates as part of Max Roach's quartet (or at times, with the strings-augmented double quartet).
I sampled a few of these today and enjoyed them all. But one date, 1984's
Scott Free
, stood way out from the pack. I cannot express to you how killer this album is. If you are a fan of gritty, pianoless freebop in the Ornette—or to cite another BS/SN ensemble, Old and New Dreams—mold, you have to hear it. There is just so much fire and abandon in this album. Pope and Roach make for a seriously
punk
jazz dream team—they're respectful players and great listeners, but they're always game to get their hands dirty.
One reason I bring up Ornette and his cronies is that
Scott Free
feels a lot like a Don Cherry Blue Note album. Like those stone-cold classics—especially the glorious
Complete Communion
—
Scott Free
is something of a suite: essentially a single 40-minute piece split in half. There's not as much thematic material to chew on as in the Cherries—the very solid motifs that are there were written by the Roach quartet's trumpeter, Cecil Bridgewater—but there are just as many
changes of scenery
, which is something I'm always looking for in jazz. (Pope's septet delivered a lot of that at Iridium the other night) For example, you hear traditionally outfitted solos throughout the course of the record—horn plus rhythm section—but you also hear a duo, as well as unaccompanied turns by Roach, bassist Tyrone Brown and Pope.
Part one of "Scott Free" (the work bears the same title as the album) starts off with some frenetic head action—very Ornette/Cherry-ish in its simultaneous tightness and barely-contained-ness—and quickly moves into a brief yet hardy avant-funk episode, with Roach working the backbeat and both Pope and Bridgewater wailing away. Then Bridgewater solos over a midtempo swing groove. Right here is when the brainmelting began for me: Bridgewater returns to the theme around the 7:00 mark, and seconds later, Roach explodes into a hurtling tempo. It's Pope's turn to solo and he just wants to get ugly, blowing with maximum brawn and heft and total punk rawness. This is the best of '80s jazz right here: Unlike in a '60s recording, the sound is totally dry and unromanticized, like the glare of cheesy stage lights, and the players are just going for it. This is honestly one of the most thrilling improvisational passages I've ever heard. There's no point in describing it—you just need to hear it. Max Roach, bebop king/innovator, squaring off with a total live-wire tenor. I love the Shepp and Taylor duets as much as the next guy, but this is the sound of a working band, of players building off a common language, a repertoire, starting at the top and just blasting off. I love the sound of it.
I won't go play-by-play through the rest of this (though I'm tempted to narrate the unfailingly tough and swinging, not to mention beyond-poetic, Roach solo near the end of part one, and the steely, wounded, blues-drenched, ecstatic, speaking-in-tongues unaccompanied Pope statement near the beginning of part two, the latter of which gives way—in a mindblowing display of good taste—to a Tyrone Brown solo with a laid-back Roach on brushes chugging along underneath). If you seek the grit and the fire and the surging jazz energy, presented with pro studio fidelity, just trust me and check this out. It's pure punk lava and you will not be sorry.
Scott Free
is what you want to hear in every sense: (1) An old-time master (Roach) at the helm. (2) An honest-to-god working band. (3) Young, hungry sidemen. (4) Great, non-invasive production—where the drums sound so loud and crisp and unglamorous. People tell you jazz languished in the '80s, you shove
Scott Free
at them and tell them to shut it.
There's all kinds of other overlooked vintage Roach on Spotify, including several other Soul Note quartet dates (I dug
Pictures in a Frame
and
In the Light
), and some considerably weirder stuff, like the absolutely baffling
It's Christmas Again
(recorded just days/weeks after
Scott Free
, and featuring the quartet along with guests like Lee Konitz and Tony Scott), on which the band's funky improvisations serve as the backdrop to a polemical poetry reading (vocalized, I'm pretty sure, by Roach, but not, I'm pretty sure, written by him) that has less to do with Santa Claus than with a harsh reminder of racism and its role in America's founding. Then there's the weighty/classy
Members, Don't Get Weary
, a near-heartbreaking 1968 postbop quintet set with heavy sidefolk Charles Tolliver, Gary Bartz, Stanley Cowell and Jymie Merritt.
If you decide to sign up for Spotify, check all of this out, and if you haven't yet made up your mind, you can always
buy a download of

Scott Free
for—I really can't believe this to be true—a measly $1.78 on Amazon. (They still haven't figured out how to price jazz albums with only a few long tracks.)
Lastly, in the course of writing this post, I've discovered that someone has uploaded
video of an entire 1989 Roach quartet show
to Dailymotion (a.k.a. second-rate YouTube). If you'll excuse me, I'm going to go check that out right this second.