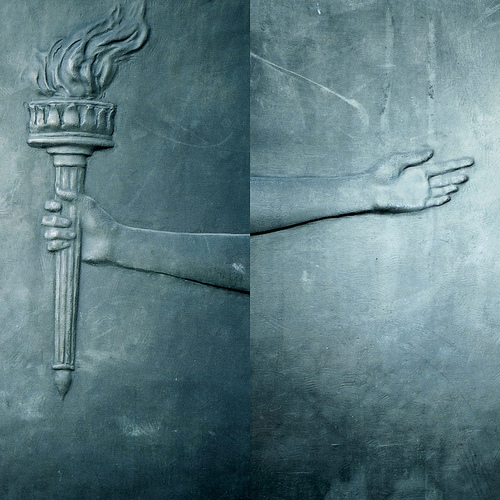 Over the past week or so, Pitchfork has been polling readers, staffers and contributors re: their favorite albums from the years 1996 through 2011, i.e., the 15-years-and-counting lifespan of the site, via a project called the People's List. My friend and former
TONY
staffer Colin St. John tipped me off to the project—check out his own
list
and
commentary
—and after a little procrastination, I began frantically compiling my top 100 in time for yesterday's deadline. You can view my list
here
, and those of other Pitchfork writers
here
.
Lists of this nature are strange; that fact is well established. They are strange because when it comes to such a vast and vastly diverse art form as music or movies or books, consensus is pretty damn near impossible. Phil Freeman
wrote passionately and persuasively
on this topic last January, with regard to his feelings of alienation from the Kanye-obsessed hordes of fellow Pazz and Jop voters. In one sense, I do not share Phil's feelings; I really enjoyed
My Beautiful Dark Twisted Fantasy
(the consensus critical pick for best album of 2010), and I included it on both my year-end top 10 list, and this most recent 15-year-spanning list. On the other hand, when I view friends' and colleagues' contributions to the People's List—here's
a typically well-rounded one
from another FAFTS ("friend and former
TONY
staffer"), Corban Goble—I can't help but feel a little
apart
from the Conversation at Large.
Again, this not out of hostility or reactionary-ness re: what I'll call the Indie-Rock Canon that has cohered during this Pitchfork lifespan (and which has in recent years expanded to included hip-hop/R&B—both mainstream and underground—as well as certain strains of metal, electronica, experimental music, etc.). I included quite a few records in that zone, including three Strokes albums, a bunch of Will Oldham selections, LPs by Sleater-Kinney, Elliott Smith, Dinosaur Jr., Battles, Dr. Octagon, Deerhoof and Sia, and a few more. And I like a lot of the other consensus faves, albums by Radiohead (I haven't listened to
OK Computer
in a good while, but I got really into it in college), Joanna Newsom (
Ys
is a beautiful, epic album), Built to Spill (ditto re:
Keep It Like a Secret
), Modest Mouse (the first song on
The Lonesome Crowded West
destroys me, but on the whole, I like
This Is a Long Drive…
better; didn't realize that was from '96—probably should've included it!), Yeah Yeah Yeahs, White Stripes, Japandroids, Fucked Up, Wavves, the Flaming Lips, Animal Collective and on and on. But it would've been disingenuous for me to include any of those latter albums on my top 100, because none of them has captured my heart and mind the way that, say, Colossamite's
Economy of Motion
(to pick one great yet largely off-the-radar album from my list) has. So my list is simply what it is, all that it really could be, i.e., a totally subjective catalog of normalcies, idiosyncrasies and, in some cases, by virtue of what is
not
included, blind spots, one very major one being hip-hop.
Over the past couple years, I've definitely tuned in to hip-hop more than I had in the previous decade. But I'm still no expert, and that's much of the reason why even in the case of a lot of rap I know I like (Ghostface, Outkast, Eminem), I didn't include those records; I simply haven't put in the time that in and of itself is an indication of love for an artwork. That is to say, when compiling my year-end best-of lists each December, I try not to overthink them, i.e., I simply reflect back on what I spent the most time voluntary listening to throughout that time period. In other words, you don't pick your favorites; they pick you. Last year, the
Frank Ocean
was a no-brainer, as was the
Francis and the Lights
the year before that, and the
Propagandhi
the year before
that
(speaking of
Supporting Caste
, which came in at No. 5 on my People's List ballot, I've started to think of this as an all-time-great album, certainly the best new record I've heard since I started to work as a full-time writer-about-music). These are simply the newly released albums that demanded my sustained attention, obsession, care, zeal, etc. during this time period. And that is all I have tried to do with this 1996–2011 list: catalog, in hasty digest form, that sustained attention over these past 15 years. I speak for no one other than myself, which is why I prefer to consider lists of this sort as lists of "favorites" rather than reflections of some monolithic "best"-ness. Taken as honest reflections of a single person's tastes, they become a whole lot less threatening and a whole lot more fun. Coming upon a list like Colin's and Corban's, where in the case of about half the selections, I know them only by title or maybe a lone track, is a chance to know more. Conversely, if even one person who checked out my picks was inspired to take a first listen to John Fahey's
Georgia Stomps, Atlanta Struts and Other Contemporary Dance Favorites
(in
TONY
, I
said
: "During five lengthy ruminations, in which original and public-domain material mingles with Ellington, Artie Shaw and Bola Sete, you hear the haunted, heartbreaking sweep of American music as filtered through a single encyclopedic mind"), Tim Berne's
The Shell Game
, or anything by craw [sic], Keelhaul or Cheer-Accident, that would make me extraordinarily happy.
And that possibility, of turning someone on to something new, or inspiring them to reconsider something they thought they knew fully, is really the only reason I can see for this whole writing-about-art thing to exist in the first place. These albums speak for themselves, but for some reason, the babble of history drowns them out and we have to dig them up and praise them and let them reiterate what it is they have to teach us. Which brings me to Colin's final point, i.e., what are the sleeper 1996–2011 picks, the great albums, in any style, yet uncovered by any of the participants in this hive-mind People's List exercise? I'd be grateful for any readers' comments.
P.S. I'm already kicking myself over the purely accidental omission of Boys Life's
Departures and Landfalls
. I did include a record by the related Farewell Bend (Brandon Butler and John Rejba were in both bands), but
Departures
is a true all-time fave 'round these parts. And all of the following were records I intended to include but had to cut to get myself down to a nice, round 100:
William Parker Clarinet Trio
Bob's Pink Cadillac
The Octagon
Nothing But Change
Cannibal Corpse
Evisceration Plague
June of 44
Tropics and Meridians
Behold… the Arctopus
Skullgrid
Yukon
Mortar
Territory Band–2
[Ken Vandermark]
Atlas
Dan Weiss Trio
Timshel
Obituary
Darkest Day
Charred Walls of the Damned
Charred Walls of the Damned
Ornette Coleman
Sound Grammar
Axis of Advance
Obey
Also a shout-out to Nicki Minaj's mixtape
Beam Me Up, Scotty
, a shrewd selection by Corban that I totally forgot about.
P.P.S. The 1996 cut-off point was interesting for me, as it comes just a few years after the release dates of some of my favorite records of all time, albums that surely would've ended up near the top of the list had the initial year parameter been, say, 1993: two more masterpieces by craw (
craw
and
Lost Nation Road
), Morbid Angel's
Covenant
,
Face of Collapse
by Dazzling Killmen,
Slip
by Quicksand, Helmet's
Betty
, Death's
Symbolic
and many more.
P.P.P.S. There isn't a whole lot of jazz or improvised music on this list. I'd attribute that to a couple of factors: I didn't start listening to jazz seriously till about 1999, and much of my jazz attention up through about 2005 was devoted to playing catch-up, i.e., schooling myself on the music's vast recorded history, a project that still persists: I'd estimate that older, non-contemporary jazz still accounts for about two thirds of my current jazz intake. Also, I'd say that on the whole, album-oriented lists favor song-based, i.e., largely non-improvisatory, music. It's a silly generalization to make, I know—I'm already second-guessing it—but it's the best way I can think of to account for the fact that there's nothing by, say, Joe McPhee, Wadada Leo Smith, Steve Lacy, Evan Parker, Henry Threadgill, Bill Dixon, Cecil Taylor or Anthony Braxton on my list. All of these artists have meant a lot to me over the past 15 years, but my high estimations of their work have formed from a composite impression of live performances I've seen, records I've heard new and old, interviews I've conducted and just a general kind of "living with" the work and attendant philosophies of figures such as these. But on the other hand, the jazz records I
did
include—albums by Andrew Hill, Tim Berne, the Bad Plus and others—are all albums I've savored in much the same way as the mostly rock-oriented selections on my People's List ballot: via repeated, sustained, voluntary attention. I'd like to hear folks' thoughts re: great 1996–2011 jazz records I might have overlooked; I'm sure there are hundreds, if not thousands, especially from the period before '05, when keeping up with current jazz releases wasn't yet part of my job.
P.P.P.P.S A running list of other worthy records from this time period, listed as I think of them:
Henry Threadgill
Where's Your Cup?
Anthrax
Worship Music
The Raconteurs
Broken Boy Soldiers
Weezer
Pinkerton
One Day as a Lion
One Day as a Lion
Björk
Medúlla
Xiu Xiu
The Air Force
Coptic Light
EP
and
LP
P.P.P.P.P.S Here's
a great, jazz-heavy list
by Destination: Out's Jeff Golick. Wadada Leo Smith's
Tabligh
is one of many shrewd selections here.